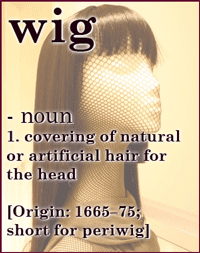 Hi,
You have found a friendly information site that will help you in the areas of choosing, buying, wearing and maintaining a wig.
There's more to Wearing a Wig..
The stigma of wearing wigs has long gone for some but still is a scary unknown experience for others. Wigs are great, you can change them like you change your shoes and outfits. The fashion trends of wigs is appealing to everyone and anyone. Whether it's for fun, medical issues or a simple style change, wigs are a big trend happening now learn the basic, master the necessities and wear your wear your wig with confidence
If  Wearing a Wig is not for you, you always have the option of  reverting back to your original hairstyle. For many it's a choice they have to learn to accept. Dealing with thinning hair or hair loss, is a major shock to the system. Then you have to start considering Wearing a Wig for the very first time – it can become all to scary. With this e-Guide you can read it at your own pace and take your time in accepting those changes, while learning to explore this new world of wigs.
Choosing a Wig
There's more to choosing a wig than picking a colour or style. Finding out which type of wig fits your wig wearing needs is a good start.
Items you Need When Shopping for a Wig
Wig shopping can be fun but there are a few items that can help you make it more easier. The tips I share will help wig buyers feel more confident and be more productive.
Hair Loss
If you are dealing with hair loss, or thinning hair then you will find helpful ways and tips to get you use to Wearing a Wig for the first time.
Re-Styling your Wig for a New Look
For all you novice wig wearer divas and gents, you can learn some styling tips for your synthetic and human wigs. Keep your wig looking fresh by know a few different styling tips.
Special Codes for that Special Wig
Are you experimenting with colour, if so you will be in for a treat, if you use the wig colour charts you will be able to learn the actual codes for your new wig colour. Whether it's a basic sleek black or a two tone colour, I'm sure you will find something that grabs your attention.
Don't be intimidated, scared, frustrated or unsure about choosing, buying, wearing or maintaining a wig again.
Wearing a wig.com is here to help you along your wig journey.